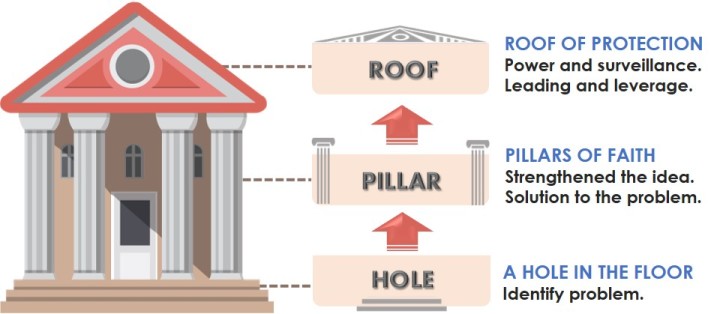 The main duty for an Entrepreneur is to innovate and invent in order to reach entrepreneurial success. Become successful Entrepreneur not only successful by itself, but inspire and leverage innovation to others for a whole better world. So, we introduce to you a metaphoric model to reach entrepreneurial success which inspire innovation that is, The ISTANA of Innovation!
Istana in Malay is a castle. The place where Kings and Queens reside. The leader of a nation. As an entrepreneur, we need to acknowledge that we are the kings and queens, the ISTANA is our innovation and our nation are our entrepreneurial success. Now, we use ISTANA as a metaphoric model to help us achieve our entrepreneurial success. Before you start any innovation, as an entrepreneur, imagine that you are a king and you enter your palace with the hope to strengthen your nation through innovation and invention.

Leading and leverage with innovation. Innovation is always risky, but when successful, it can propel companies forward. The roof should protect the structure at any cost. Whether it be rain, the sun, or even an enemy attack. This means that it should cover everything, and everyone inside the ISTANA. This roof, represent your innovation. It is always on top, and it is always the last to be build. Because in order to have the roof, you need to have the base and the pillars. Your innovation should be uplift by the method of the solution and should solve the problem that you encounter. Specifically, your innovation should execute the solution and solve the problem, it should cover everything in your journey to entrepreneurial success.

How to drive the creation of innovative products and services by cultivating creativity and risk-taking at all levels. Imagine the hole somehow weakened the structure of the ISTANA. Therefore, you need the pillars to strengthened it. The Pillars is the solution to the problem that is going to strengthen your idea. Now, the pillars in the ISTANA should strengthen the structure of the building. It should not be affected by the hole or the crack because it is the one that solve it. Therefore, the pillars represent the solution to the problem that you encounter in the first place. It does not represent your innovation; it should be the method of solution that your innovation going to use to reach your entrepreneurial success.

Letís imagine, you walk in your ISTANA, amazed by the history that it kept through the kings before you. But then, you see a crack, a hole, something that somehow weaken the structure of the ISTANA. This hole, this crack in the floor represents the problem that your innovation needs to solve because it blocks you from your entrepreneurial success. Even though a crack or a hole, a problem to be specific is not something likeable, it is somehow the starting point of our idea. Our innovation. Thatís is why it is at the floor. It became the base of the idea.