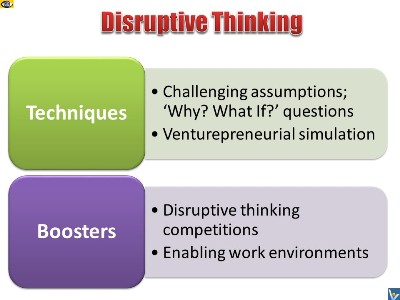 What Is Disruptive Thinking and How It Can Benefit Your Business
Disruptive thinking is a way of thinking that challenges the lifestyle way of doing things in a firm or a market or a sector, locally or globally.
Venturepreneurial disruptive thinkers come our with disruptive innovations that create new trends and shape our future. In corporations, intrapreneurial disruptive thinkers create and manager in-company ventures that can lead to huge business growth.
Disruptive Thinking Techniques
Creative dissatisfaction mindset, challenging assumptions, asking 'Why? What If?' questions, thinking outside the box, synergizing diversities in an innovative ways are a good way to come out with an initial set of disruptive ideas.
The next step is to play a venturepreneurial simulation game, like INNOBALL, with a promising disruptive idea in order to check its implementability and develop effective implementation strategies and skills.
Strategic creativity techniques, such as 3Bs (Brainstilling – Brainstorming – Brainstilling) help turn disruptive business ideas to harmonious innovations.
Boosters of Disruptive Thinking
Ventupreneurial creativity competitions, such as INNOMPIC GAMES, are an excellent way to inspire disruptive thinking of contestants who are address creative challenges put up by organizers. Such contests help enhance both individual and team creativity. Unconventional work environments, such as 'Yang Rooms' can boost also disruptive creativity and allow it flow.