Members ● Awards ● Photos ● Likes ● Lessons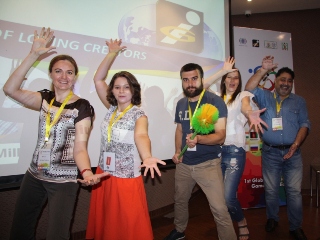 Russian team's Solutions
for the Big Challenges addressed by the Innompic teams
Selection of the smartest innovators
Members of the Russia Team read newspaper articles about the 1st Innompic Games
Innompic 'Loving Creator' Gesture forever!
Диана
Про выводы или чему я научилась. Вряд ли, я умею в словах, тем более печатных, донести глубокий смысл того, что хочу сказать...

1. Ты знаешь, что я очень люблю такую форму работы (на ней мы и познакомились). Поэтому первое я люблю эту форму работы!)))
2. Глобальные темы стоят того чтобы ими заниматься. Именно они меняют Мир.

Участники игр вдохновил меня на то, чтобы стать лучше!

Уроки на будущее, которые я говорю себе!
3. Узнайте друг друга прежде чем идти вместе в бой. Познай партнёра!
4. Научись абстрагироваться и отключаться от отвлекающего, для большей концентрации на главном.
5. Отдавайся каждую секунду на 100 процентов, эти моменты больше не повторяться!
6. Задавай себе вопрос: "Что будет в конце, чем все закончится?", чтобы изменить свои действия сейчас.
7. Добавляй игру, театральность.
8. Мир такой огромный!

Focus on the most important things is the key to great perfroamnce. Visualize the future results of your intended action and adapt your action to achieve better results. Make your business presentation more joyful and artistic.