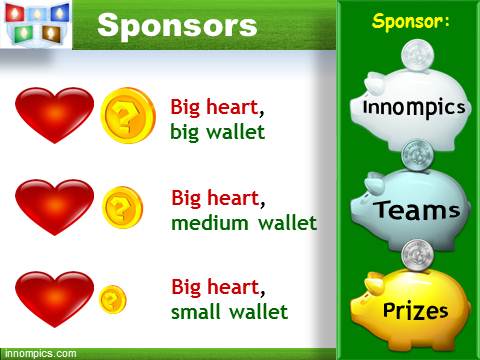 In-Cash In-Kind
"We make a living by what we get, but
we make a life by what we give." ~ Winston Churchill
We'll organize the 1st INNOMPIC GAMES - web-based Olympics for innovative entrepreneurs and firms - in 2017 and would like to invite Google to be a founding partner.
***
Innompics are modern intellectual Olympics for the modern intellectual, entrepreneurial and innovation-driven World.
The competition areas are various entrepreneurial creativity contests and simulation games "Innovation Braiball" and "Innovation Chess" that help turn inventions into profitable innovations.
The two distinctive features of Innompic Games are as follows:
(1) Intellectual and Virtual - participants can play at home and shine globally
(2) All-involving - spectators can also participate in various contests through social networks.
According to our estimates, at least 100 million people will watch and participate in the 1st Innompics Games.
Afterwards, Innompics will be held annually or biannually.
***
Our Strengths:
* Strong internet marketing network (millions of website visitors; customers in 130+ countries)
* Support from innovation leaders from all over the World (Goodwill Ambassadors in 20+ countries)

Why we want to build synergistic partnerships
Our brand and financial base are not strong enough to make the 1st Innompic Games a huge global success, so we want to create a synergistic partnership with a global innovation leader to make a greater breakthrough.
Download
Detailed description of the 1st Innompic Games is available for download the the home page of the Innompics website:
http://www.innompics.com
A Sponsor can benefit in the following ways if it becomes a sponsor or a joint venture partner:
Enhanced brand equity and national & global reputation, thus more clients and higher revenues
Huge return on investment is expected (100,000+ %) if Loxley buys 1% of Innompics now for app. $100,000 and sells it for app. US$ 10,000,000 in late 2017 after the 1st Innompic Games have been triumphantly completed.
Rewards for the soul: being among the founding partners/sponsors of a history breaking event is exciting in its own right
We're planning to provide trainings to the participating teams to make the games more exciting for watchers. We are also planning to provide monetary prises to the winners: US$50,000 to the gold-medal team, US$25,000 - to the silver medal team, etc. There will also be smaller prizes for individual winners.

Expenses could be as follows:
If a company sponsors a team, the expenses for training, practices and participation will be around just US$10,000. This money will be required during 2016-2017.
If a company sponsors a monetary prise for a winner, the amount would be between US$5,000 and US$50,000 per prize, depending which prize a company would like to sponsor. This money will be required in early 2017.
If a company wants to buy 1% of Innompic Games, we can fix today's special price of US$100,000. This money will be required towards the end of 2015.
If a company wants to spinsors Innompic Games as such,the amount is not fixed. The benefits the sponsor will get will be proportional to the sponsorship value.