Special benefits for countries looking for >> Rapid Growth Radical Innovation Transformation
Below are some opportunities presented (in an infographic style) by Innompic Games that can help ease the problems raised in the videos.
1. Boosting economic growth through nurturing innovative self-leaders
2. Helping transformational leaders grow
3. Leveraging diversity
Economic Growth through Empowered Self-Leaders
Innomoic Games are all-inclusive. They help all people become Loving Creators and create brighter future for themselves and others.

Helping Transformational Leaders Grow
To lead transformational change, a special breed of transformational / venture leaders is required. Innompic Games nurture such leaders.
Venture leaders need special tools and skills to implement radical change.
Usually, even in developed countries, over 70% or radical change projects fail.
Innovation Football helps not just implement radical change, but exceed the desired results.
Leveraging Diversity
By showcasing intellectual teamwork and team-based creativity, Innompic Games help people see diversity as an asset and teach how to synergize diversities.
Turning People to LOVING CREATORS of a BRIGHTER FUTURE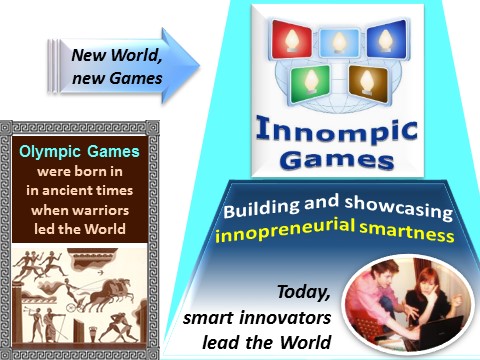 Empowered Kids Change the World
❶

"Teach a man to fish and you feed him for a lifetime": Innompic Games are to help people around the world – for centuries ahead – to invent new great things and turn their inventions into reality.

❷

Web-based entrepreneurial creativity contests will create equal opportunities for rich and poor, men and women, healthy and physically challenged.

❸

Similar to Olympic games that inspire and stretch people for over 2,000 years, Innompic Games will become the World's main entrepreneurial creativity contest – inspiring and empowering – for centuries ahead.
Breakthrough Innovation
Innompics vs. Olympics and Social Networks

❶

Olympic Games focus on showcasing physical capabilities.
Innompic Games focus on showcasing intellectual capabilities
aimed at creation of innovative value for others.

❷

Olympic Games allow millions of spectators watch athletes perform. Innompic Games help millions of spectators become "intellectual athletes" by learning from others and participating in various web-based contests.

❸

Social networks are "horizontal" – they help millions of people communicate. Innompic Games are "vertical" – they help millions of people grow.
Innompic Games are to change the life
of all the participants and spectators all over the World for far better!
Brief Presentation (10 slides) ● Longer Presentation (50 slides)