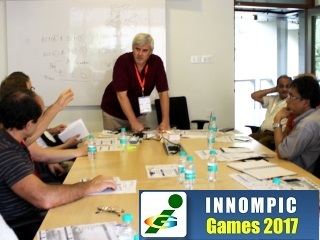 Innompic Judges assess entrepreneurial creativity of Innompic Teams that make presentations of their inventions, play Innovation Football simulation game and participate in other Innompic contests and activities.
Assessment parameters include inventiveness, strategies, anticipation skills, creative problem solving, creative marketing, teamwork, entrepreneurial leadership skills of the team leader, and presentation skills.
Judges are equipped with Assessment Forms. They have also Gold Coin and WOW cards that are used for quick and show-like selection of winners: teams, individuals, and ideas.